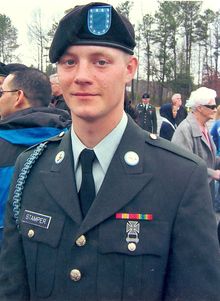 Aaron Matthew Stamper
Biographical Information
Birth Name: Aaron Matthew Stamper
Born: June 21, 1985
Died: April 5, 2012
Birthplace: Huntington, WV
Occupation: assembly line worker

Thanks to all members of VFW Post 8850 for their services at the Phillips funeral home, at the cemetery and for their service to this country.
I didn't know him long, but what I do know about him is that he was a good person and that he served in Afghanistan until recently and he had my complete respect for his service to this country. He died at his residence in Fountain Inn, South Carolina. Following is his notice posted on the website of the funeral home in Ironton, OH.
Death Notice
Aaron Matthew Stamper
BORN: June 21, 1985 DIED: April 5, 2012 LOCATION: Fountain Inn, South Carolina
Aaron Matthew Stamper, 26, of Fountain Inn, South Carolina, formerly of Pedro passed away Thursday April 5, 2012 at his residence. The Huntington, West Virginia native was born June 21, 1985, a son of, Freddie and Amanda Kay Stamper of Pedro and mother Robin Phillips Adkins of Sebring, Florida.
Aaron attended Rock Hill School and was a U.S. Army Veteran. He also was employed as an assembly line worker at a warehouse and was of Baptist faith.
In addition to his parents, Aaron is survived by: A son: Nathan Stamper of Ironton 2 sisters: Ashley Stamper of Sebring, Florida and Samantha Stamper of Pedro A paternal grandmother: Minnie (Danny) Kelley of Ironton Maternal grandparents: Robert and Maxine Phillips of Coloniel Heights, Virginia A niece: Analisse Briseno of Sebring, Florida And 2 step-sisters: Latisha Roush and Hannah Roush
Aaron was preceded in death by: A paternal grandfather: Chester Stamper
Funeral services were at 11:00 A.M. on Monday, April 9, 2012 at Phillips Funeral Home, 1004 South Seventh Street, Ironton, Ohio. Burial was in Woodland Cemetery with graveside military rites conducted by the V.F.W. Post #8850.